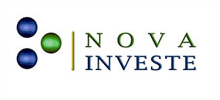 Members
Américo Okubo
Bachelor in Computer science (Unicamp) and Postgraduated in Business Administration (FGV). Business Development Manager at Investe Brasil and has accumulated large international experience at Mitsui & Co., Ltd. (Tokyo, Japan) in the segments of technology and microelectronics (aokubo@novainveste.com.br).

Valdelino Fragras Ferreira
Bachelor in Economy, has occupied diverse positions of management in financial areas at IBM Brazil, has also worked in the banking segment as manager of leasing and credit cards at the Bozano Simonsen Bank . At Investe Brasil has worked as Financial-Administrative Manager (vfragas@novainveste.com.br).


Alexandre Uehara
Under graduated in Social Science (USP) and PhD in Political Science (USP). Has worked as economic and social analyst at Jetro (Japan External Trade Organization), with large experience in research cordination and evaluation of Brazilian and international economic and political environment. (aruehara@novainveste.com.br)