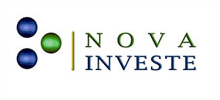 Service
What we offer
Essentially, Nova Investe activities can be classified under one of two broad headings: information and services for investors.

Nova Investe Information runs from general public data on Brazil, its economy, legislation and so on, through to very specific details about individual investment opportunities - very often details that have not yet been made public – and market structure on demanded segment, as well.
The most general information can be supplied as part of Nova Investe service to investors or provided as special report accordingly to investors need and required format.
Nova Investe Services
are an extension of our basic information supply, and draw on the support of the complete agency team at stages of the process.
Our services usually start once an investor has decided on a group of possible location options that typically includes Brazil and various other countries. As the investor narrows down his decision to a short-list of countries, and the investment proposal starts to take shape, Nova Investe can help with more detailed information and with essential contacts in the public and private sectors. We can offer increasing support and services to help the investor reach the point of commitment, transforming a business opportunity into a firm project.
How we work
One whole competence of Nova Investe is dedicated to maintaining a structured network of contacts to help potential investors. This investor support network brings together strategically-placed contacts in ministries, trade and industry groups and major federal regulatory agencies. These key people have the information investors need on regulations, procedures, markets, practices and so on. Going directly to the right person can save weeks of time, not to mention substantial costs.
Nova Investe is also ready to help investors at a much earlier stage of the process. Maybe a company is just thinking about Brazil, and evaluating it against other countries around the world. We are delighted to help such investors put together the information and contacts they feel they need to come to a preliminary decision.